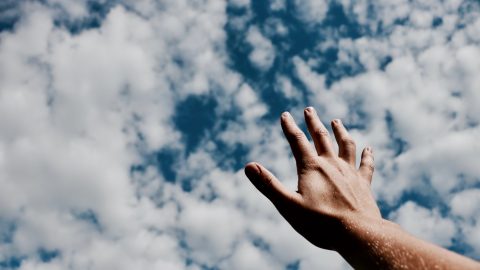 We have this hope that burns within our hearts, hope in the coming of the Lord.
Wayne Hooper's hymn "We Have This Hope" was written for a General Conference session many years ago and it has become the theme song for many Adventist gatherings since. It succinctly declares the hope we have as a body of believers and the source of that hope.
If there is anything the world needs right now, other than toilet paper, social contact, and a COVID-19 vaccine . . . it's hope. We need a reason to believe that there are better times ahead of us. We have seen better times than these.
There is suffering. More and more people are getting infected. Some people have lost loved ones. Many have lost their jobs. Many are feeling isolated and lonely.
There is disappointment. Events are being cancelled. Vacations are on hold. Schools and businesses are closed. Graduations are postponed. Life plans are up in the air.
There is fear. Will I get the COVID-19? Will we be able to slow down the spread of the virus? Will this pandemic collapse the world economy? Will I lose my job? Will I be able to pay the rent? Will I be safe? Is this the end of the world?
It's been a difficult time for the church as well. Most churches are closed for an indefinite length of time. In Indiana, major evangelistic efforts have been disrupted because of the pandemic. This week we learned that the General Conference Session is being postponed until next year. That session will be drastically downsized compared to what was originally planned; only essential personnel will be invited.
Being glued to our news feeds doesn't seem to ease our anxiety. Yet we keep checking for the latest updates. Maybe we're expecting to finally hear some good news. Maybe we're searching for a glimmer of hope. But mostly what we we get is more depressing headlines from around the globe.
We need to search somewhere else. There is hope if we look in the right place.
Why, my soul, are you downcast?
Why so disturbed within me?
Put your hope in God,
for I will yet praise him,
my Savior and my God.
The promise of the second coming of Jesus is perhaps our greatest source of hope in these difficult times. This hope is a reminder that better things are in store for those who trust God. It's no wonder that Paul called the second coming of Jesus the "blessed hope" (Titus 2:13). This hope is a blessing because it holds the promise of the only cure for this broken and sinful world.
Scripture reveals that there will be trouble in the world shortly before Jesus comes. But we don't have to fall into despair because of the difficulties that lay ahead of us. In his letter to the Romans, Paul writes, "I consider that our present sufferings are not worth comparing with the glory that will be revealed in us" (Romans 8:18). Paul was not fearful or preoccupied with the crisis  in his life because he focused on Christ.
Does this pandemic mean it's the end of the world? Well, it doesn't appear that we are there quite yet. Read Revelation 13:11-18. That scenario, a time of religious persecution and a wide-scale limiting of buying and selling on the basis of who you worship, still has not happened. Yes, most churches have been forced to close for public safety reasons, but churches are not being singled out in this pandemic. Sporting events, businesses, restaurants, and other "non-essential" places are being closed too. What we are seeing here does not appear to be what is described in Revelation 13. More things still have to happen before that time comes.
So how much longer do we have? Nobody knows. Jesus says, "About that day or hour no one knows, not even the angels in heaven, nor the Son, but only the Father" (Matthew 24:36). We know from history that it is never wise to set dates or timelines for the return of Jesus. At the same time, we want to avoid preaching a false gospel of "peace and safety" that lulls people into a state of complacency. The best way to live in these times is to stay close to Jesus and always be ready for his return because it will come unexpectedly "like a thief in the night" (Matthew 24:42-44; 1 Thessalonians 5:2). Things can change very quickly. The way that our lives have been transformed over the past two weeks shows that this is true.
We don't know the details of what is coming in the future. But we can cling to one sure thing: the promise and the hope of the coming of Jesus. Regardless of what happens in the meantime, we should try to keep our focus on Christ more than the crisis happening around us. We can look forward to the future because he has something special in store for us.
Do not let your hearts be troubled. You believe in God; believe also in me. My Father's house has many rooms; if that were not so, would I have told you that I am going there to prepare a place for you? And if I go and prepare a place for you, I will come back and take you to be with me that you also may be where I am. You know the way to the place where I am going.
While time lasts, we will continue to share the Good News about Jesus and his soon return. "We have this hope that burns within our hearts. Hope in the coming of the Lord."
We still have this hope.
Jared Nudd
Associate Pastor